We live in a world where it's easier to communicate with another human being than ever before — a world that also places relentless demands on our time and attention.
Even with the amazing technology we have in our pockets, we can fly through the day without remember-ing to send a simple "I love you" to the most important person in our lives.
Romantimatic can help.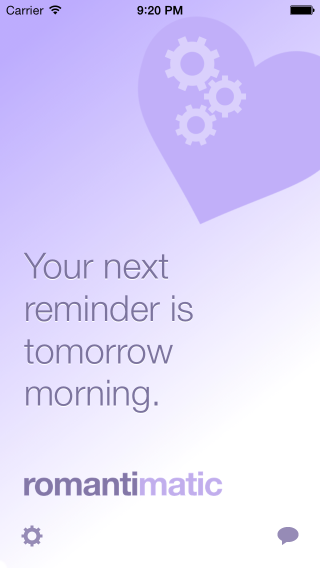 When you run Romantimatic the first time, it will ask you to select your sweetheart from among your contacts. From then on, it will remind you to stop what you're doing every once in a while and send them a nice message, via either SMS or iMessage.
The app comes with a couple dozen pre-written texts, and you can add any number of your own, or compose something new when the reminders arrive. You can vary the frequency of the reminders — anything from twice a day to once a week — and set the days of the week and the hours of the day that the app will be active. It's as simple as that!
Sometimes, the smallest things mean the most, and a romantic message from you will make your sweetheart's day!
"Texting to express affection was associated with higher reported partner attachment for both men and women." — Using Technology to Connect in Romantic Relationships: Effects on Attachment, Relationship Satisfaction, and Stability in Emerging Adults
Privacy Policy | Press | Support
Copyright © 2014 Extra Moon LLC